This step by step woodworking project is about wooden smokehouse door plans. This is PART 3 of the smokehouse project, where I show you how to build the door for the smokehouse. My plans come with step by step instructions and you can easily adjust all the dimensions to suit your needs. See my other DIY projects HERE.
We recommend you to invest in the best materials you could afford. Therefore, you should buy weather-resistant lumber, such as pine or cedar. Always take accurate measurements before adjusting the size of the components at the proper size. Drill pilot holes trough the components before inserting the wood screws, to prevent the wood from splitting.
Made from this plan
Smokehouse Door Plans
Materials
I – 5 pieces of 1×6 lumber – 78 1/2″ long, 3 pieces – 27 1/2″ long, 2 pieces – 36 3/4″ long DOOR
J – 4 pieces of 1×6 lumber – 5 1/2″ long SUPPORTS
---
7 pieces of 1×6 cedar – 8′
Tools
Time
Building a smokehouse door
First of all, you need to assemble the door panel. Cut the components from 1×6 lumber at the dimensions indicated in the diagram. Lay the slats on a level surface and then attach the horizontal supports. Drill pilot holes and insert 1 1/4″ screws to assemble everything tightly. Make sure the corners are right-angled.
Do not apply stain on the components and use untreated lumber. Work with attention and make sure you keep things simple and safe.
Build the diagonal braces from 1×6 lumber. Cut both ends of the braces as shown in the diagram and then secure them into place with 1 1/4″ screws.
Attach 5 1/2″ long pieces of 1×6 lumber face of the smokehouse, so you can hang the door into place properly. Use 1 1/4″ screws to secure the supports into place.
Fit the door to the front opening, making sure everything is aligned properly. Use shed hinges to secure the door to the front wall. In addition, install a latch so you can lock the door tightly into place and keep the meat safe from predators.
The smokehouse has a really nice look and it is not only functional, but also appealing to the eyes.
Make sure you check a proper location for the smokehouse and install a vent so the excess heat and smoke come out the structure.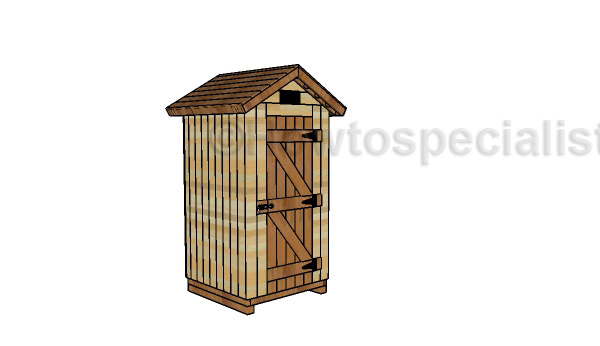 This was PART 3 of the smokehouse project, where I show you how to build the door and how to install it into place properly. If you like my project, don't forget to SHARE it on Facebook and Pinterest.
Thank you for reading our project about wooden smoke house plans and I recommend you to check out the rest of the projects. Don't forget to LIKE and SHARE our projects with your friends, by using the social media widgets. SUBSCRIBE to be the first that gets our latest projects.
<< Previous  |  Next >>