This step by step woodworking project is about how to apply outdoor decorative plaster. I have had the opportunity to work on an old house and make some magic with the old finishes. The house had an ugly concrete socle so I chose to cover it with a nice layer or decorative plaster. I chose a nice color to match the pavings.
I recommend you to invest in the best materials you could afford. Therefore, you should buy the best materials you can afford and always read the instructions before starting the process. There are many types of decorative plaster products out there, each requiring a technique and special tools. That is why, read carefully the labels before taking a final decision.
Materials
Primer, Decorative Plaster
Tools
Time
How to Apply Outdoor Decorative Plaster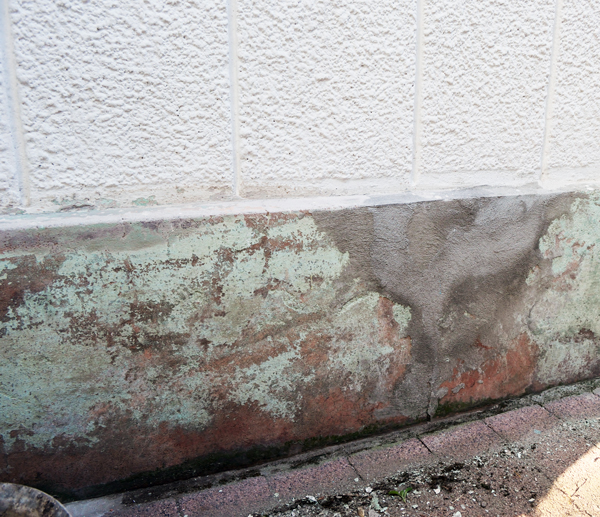 The first step of the project is to prepare the surface for applying the decorative plaster. In my case, I had to apply the plaster to the socle of a house. I used a palette knife to remove the protrusions and make sure the surface is even.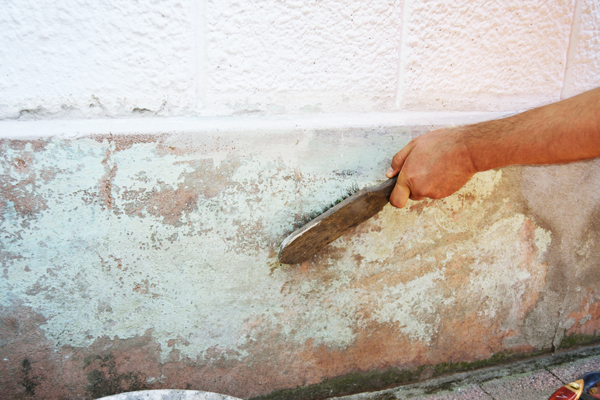 Next, I used a brush to remove the old layers of paint that were covering the surface. Make sure you use a respiratory mark when using the brush.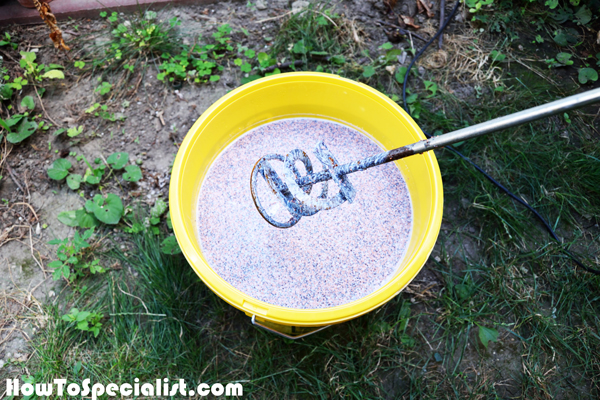 The next step of the project was to mix the decorative plaster with my drill machinery and a mixing paddle. I recommend you to use a lower speed at first and move the paddle up and down, making sure you mix the product evenly.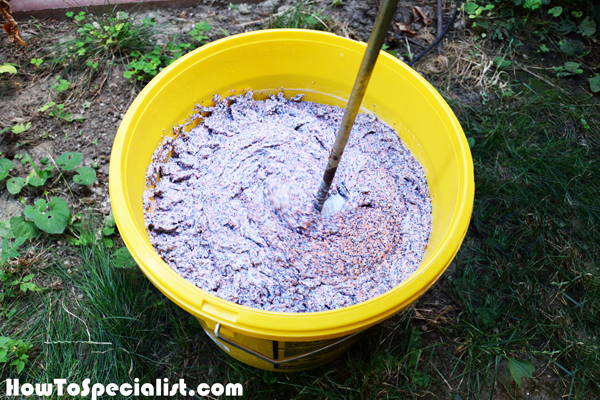 The decorative plaster should have the consistency of cream, so you can work with it easily.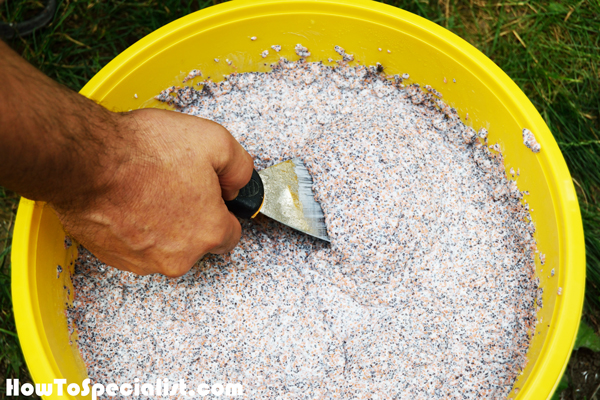 Use a putty knife to take the material from the bucket.
Next, apply the plaster to a trowel, as seen in the image.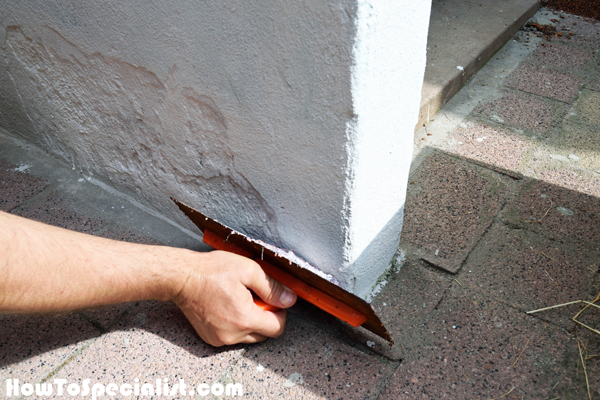 Apply the plaster to the wall with a trowel. Make sure you hold the trowel at a 45 degree angle, so you spread the material evenly. Go several times over the surface until you spread the plaster evenly.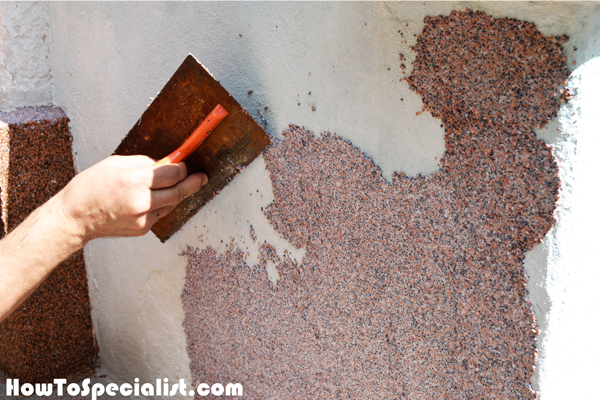 Take more plaster from the bucket and spread it evenly on the wall. It is essential to leave a smooth and even surface when applying the plaster, if you are aiming for a professional result.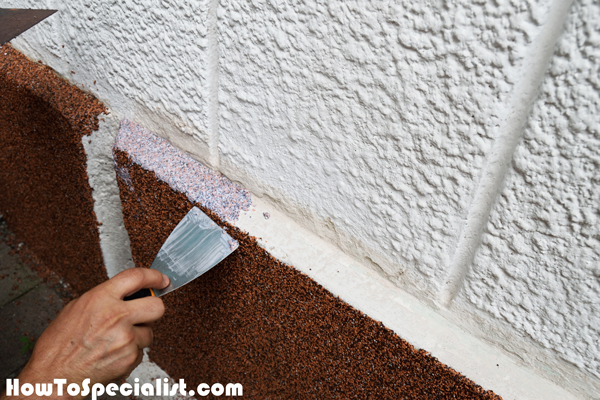 Use the putty knife to cove the narrow spots. This may take more time, as it is a tedious work, but the end result will pay off eventually.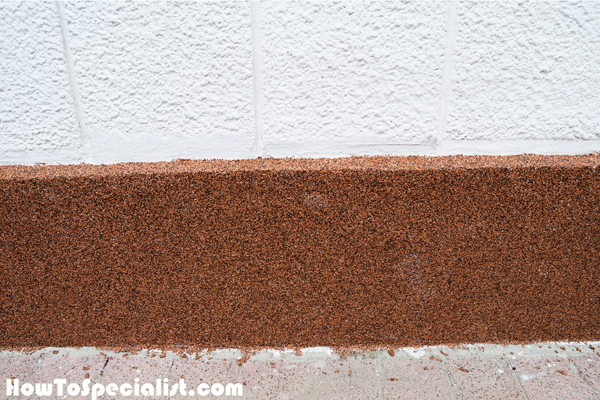 Leave the surface to dry out for several days.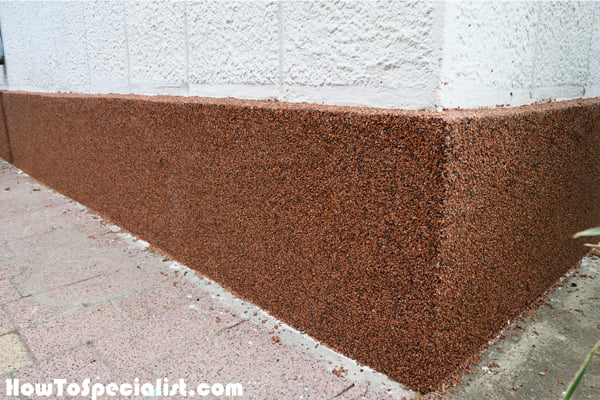 This project came out better than I have envisioned and I can report that the house socle looks really nice. If you like my project, don't forget to SHARE it on Facebook and Pinterest.
Thank you for reading our project about how to apply outdoor decorative plaster and I recommend you to check out the rest of the projects. Don't forget to LIKE and SHARE our projects with your friends, by using the social media widgets. SUBSCRIBE to be the first that gets our latest projects.